Corona Extra 60qt Steel Rolling Cooler With Bottle Opener
$249.99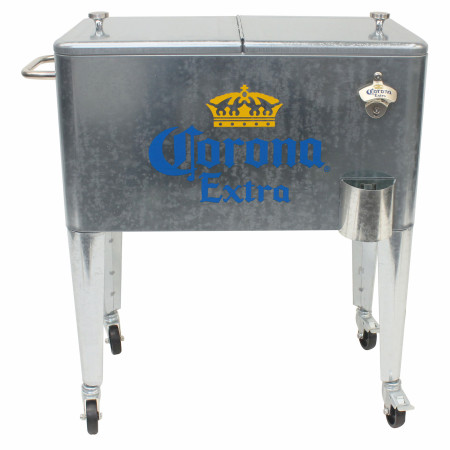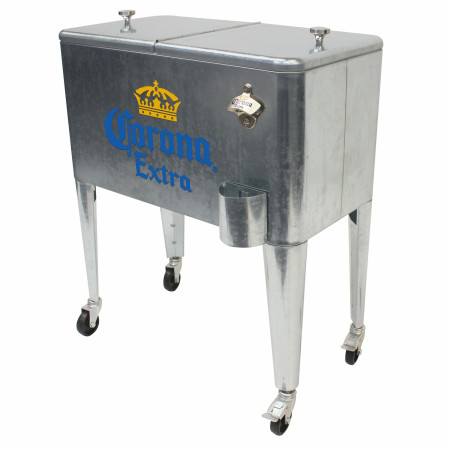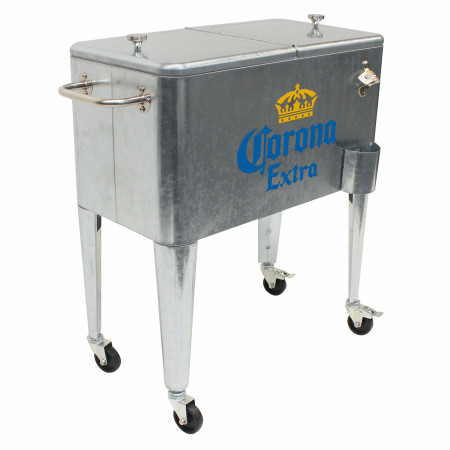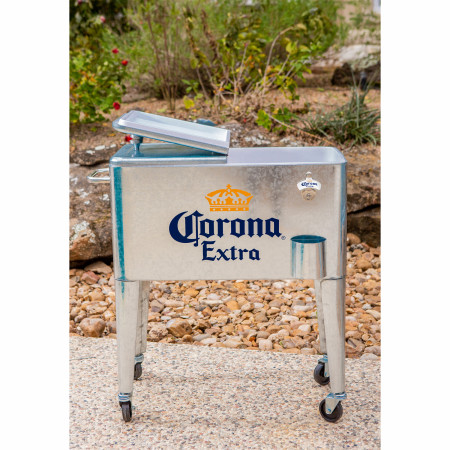 Corona Extra 60qt Steel Rolling Cooler With Bottle Opener
$249.99
---
*Note: This product ships direct from the manufacturer with standard shipping to the United States only. This item may arrive at a different time than other items in your order. Please allow for 2-3 week delivery time.
Get the party started with our Leigh Country 60 Qt. Corona Galvanized Cooler! This officially licensed Corona Extra cooler stores the drinks you plan to serve for your festivities. The removable double lid allows you to fill the insulated poly liner with ice and beverages. Additionally, the interior compartment of this 60 qt. cooler has ample volume, so you can keep up with your thirsty guests. We are proud to feature the Corona Extra logo on this handsome icebox. A built-in bottle opener and cap catcher makes opening your Coronas a breeze. For an added touch of convenience, the steel bar offers a place for you to hang a towel. This retro cooler has four casters for easy transport, and two of them can lock so the cooler stays in place when unattended. You can easily drain the melted ice after the party's over by pulling out the included plug.
Do you ship worldwide?
Yes! We're located in the United States but can ship almost all of our products all over the world. However, a select few items cannot be shipped outside of the USA and they are marked as such.
What payment methods do you accept?
We accept Mastercard, Visa, Discover, and American Express as well as debit cards that have the Visa/Mastercard Logo. We also accept Paypal. If you would like to pay by check or money order, please call us to place your order and we will provide instructions on paying by mail.
Do you accept returns?
We want you to be happy with your purchase. If you are dissatisfied with your order for any reason, you have a full 60 days to return it for a refund. Read our return policy for more info about returns and exchanges.
How quickly is my order shipped and when should I expect to receive it?
Most orders placed by 2pm EST are shipped on the same day from our warehouse in Pennsylvania. Shipping time depends on your shipping method preference at checkout. Orders submitted after 2 PM on Friday will ship out on Monday. On rare occasions, an item may be backordered or out of stock, and you will be notified of any delays. Be sure to enter an accurate email address at checkout so we may contact you if there is a situation concerning your order.
How do I track my order?
US customers will receive an email including order information and a tracking number. You can track your package at USPS.com or UPS.com depending on which service you selected. Note: Tracking numbers may take 24 hours to update information on the previously mentioned websites. Tracking for international packages is only available through International Express Mail. Regular international airmail does not come with tracking.
Do you sell your products wholesale?
We do offer discounts on large quantities of many of our items. We also offer drop-ship services. Please contact us with your needs and we'll happy to help.
Do you have mailing catalogs?
At the moment we do not offer paper catalogs. We add products to the site every few days, so a paper catalog would not be able to show our newest merchandise. To receive special offers and updates, please sign up for our email newsletter.